Discover the power of gratitude in your community!
Do you have other ideas for increasing gratitude in your community? Please share them with us on our blog or send us an email at [email protected]
Say Thank You Day is a day set aside to stop and reflect on the people who help us each day and to express our appreciation to them by thanking them through written notes, phone calls, verbal words of thanks, text , emails, sticky notes and other creative ways of saying thank you.
If you would like to officially proclaim a Say Thank You Day in your community, workplace, school, nonprofit, church or home, please feel free to use our proclamation as a starting point.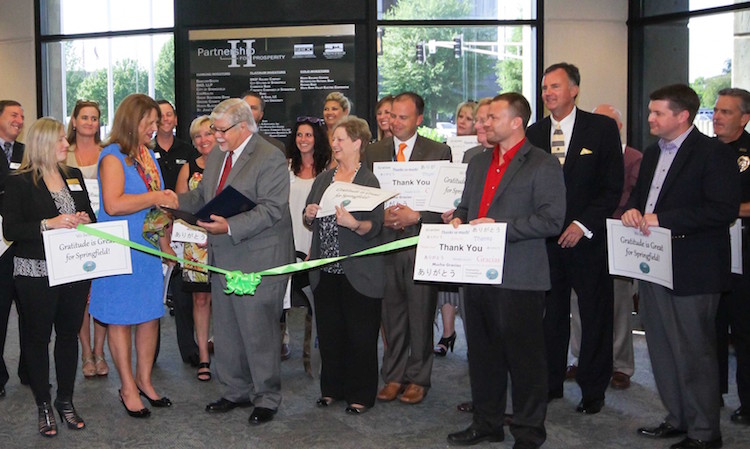 Gratitude Is Great for Your Community
Bring 21 Reasons to Say Thank You® to your community through the Gratitude Is Great movement.
We invite you to engage local corporations, businesses, schools, churches and nonprofits in the belief that Gratitude is Great for their community by adopting The Gratitude Resolution and implementing the 21 week program, 21 Reasons To Say Thank You®. The program involves thoughtful consideration of those who help you in various facets of life by writing a note of appreciation expressing gratitude for a specific action, thought or deed.
Programs are tailored for business and nonprofit leaders, coworkers, sales people, individuals, children, and others through the use of the 21 Reasons to Say Thank You® series.
We envision improved health, greater levels of joy and increased wealth in communities that embrace Gratitude is Great and the 21 Reasons to Say Thank You® program.
Note-worthy Person of the Year Award
Each year, we search for an unsung volunteer hero/heroine who has given unselfishly of their time and funds to various sectors of the community for several years. We seek the person who has not been recognized by other organizations; someone who would appreciate receiving thousands of thank you notes from the community. If you know a "note-worthy" person that you would like to nominate, please follow the guidelines below.
The Note-worthy Person of the Year is selected by local community leaders from all sectors of the community. Please note, we look for the characteristics as identified above: 1)unsung volunteer hero/heroine not previously recognized, 2) gives time and funds unselfishly, 3) to more than one area, this could be schools, nonprofits, churches, etc. 4) has volunteered time and monetary gifts to numerous organizations for more than three (3) years.
The Note-worthy Person of the Year is announced on November 1. Drop off locations for thank you notes are announced at that time. The award is presented along with the thank you notes during Gratitude Week, the third Thursday in November.
In addition to notes of appreciation from the community to a Note-worthy Person, we want to establish a world record of the most thank you notes received by one person and secure a listing in Guinness Book of World Records.
Nomination guidelines:
1. Nominee must be a resident of the community, city or area.
2. Nominee must be available for the presentation the third Thursday in November (Gratitude Week).
3. Nominations accepted: August 15 – October 15
4. Nomination form must be completed and submitted no later than October 15.
Thank you for your nominations.
Questions? Contact LaDonna Greiner, 417-771-5381
21 Reasons to Say Thank You® series
21 Reasons to Say Thank You® is reviving the joy of a handwritten thank you note in businesses, schools, nonprofits, churches and homes. Each book in the series comes in its own custom-designed, attractive, reusable book box. In one compact package you have everything you need to start experiencing the power of gratitude. The book guides you through the benefits and steps of writing notes of appreciation. The journal section provides inspirational quotes and inspiring ideas. You'll find real-life gratitude stories and sample notes, as well as a list of creative adjectives, recommended reading and other helpful tips to help you express your gratitude to those who have helped you. An ink pen and 21 note cards are included in the set so you have everything you need to start down the path of greater gratitude.