Now is the season when we are expected to buy the perfect gift! We search online, at the mall and in catalogs trying to find the gift best gift possible. And, if you are like me, you end up spending hours of time and money only to feel that you've fallen short of the mark.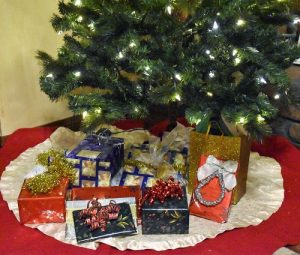 Would you like to give the best gift ever? A gift that everyone craves? A gift they will gratefully receive?  One they keep for the rest of their lives?
This gift is the icing on the cake. It is the gift to include as the grand finale of the gifts you are giving them. It cannot be bought with bitcoin, cash or credit.  This gift will never be forgotten.
The Most Memorable Gift
My dad passed away suddenly at 52 years old. I have one postcard he sent me during a trip to London. One postcard. His handwriting was hard to read but that didn't matter to me. I would LOVE to have had a handwritten letter from him expressing what he saw in me, the traits he appreciated, his pride in my talent or accomplishments and, most importantly, why he loved me.
Have you ever received a letter from someone you love or one who influenced, encouraged and loved you? Dad? Mom? Step-mom? Step-dad? Grandparent? Sibling? Friend? I bet you keep that letter in a special place.
Taking the time to hand write a meaningful letter to the loved ones in your life is a gift. One they will be grateful for and cherish for a lifetime.
Are you thinking, "Me too! I would love to get a letter," and wondering why you never received a letter?
Roadblocks
Many people avoid sentimental or emotional activities. Maybe they don't know how to express their feelings. Or, they don't want to get emotional– expressing feelings can make us feel vulnerable and uncomfortable.
I think this is why I never received a letter from my dad and, I don't think it ever occurred to him.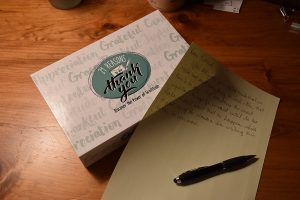 Would you like a letter from a loved one?
Start the cycle by writing one first! Encourage the men or women in your life to write letters to their loved ones also.
Share this post to help others understand the power of a letter. Once they know and understand the desire of your heart, maybe they'll write you a letter!
We can't wait on other people though. Its time to start writing your letter now.
How do I start?
Is it too overwhelming to think about writing a letter to each person? Then, start with your spouse, children, mom or dad. Once you get started, you will find it easier to continue. This video and the examples below can help you get started.
Gratitude Pro-Tip: If you don't get letters written to all your children before Christmas, hold them until you can complete all of them and gift them to the kids at the same time. It doesn't matter how old we are, sibling rivalry exists. You don't want to negate the impact of your letter by an action that could be perceived as thoughtless, insensitive or hurtful.
What do I say?
Make sure you tell them why you love them. Name the specific things you love about them. Do they have a grateful spirit? If so, tell them why you appreciate their attitude. Give them examples of times you remember things they did that showcase this characteristic. If it helps, make a list of all the positive traits that you love and admire about the person.
Here are a couple of examples to help you get started,
Example 1
Hi Lisa,
It's your dad here. I've never been very good at telling you the things I admire about you or why I love you, but I'm going to take a stab at it now because I think it's important for you to know.
Lisa, when you were born, your mom and I didn't have much. We lived in a little trailer on Smith Street. Lisa, you were the bright light in our l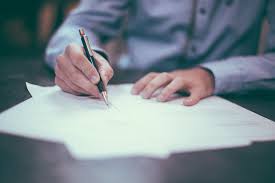 ife. You were born with determination and a sweet disposition and you've never lost it. You probably didn't know how much we were struggling to make ends meet when you were young but I don't think it would have made any difference. I appreciate your positive attitude and willingness to pitch in and help. I seldom (if ever) tell you this, that's why I wanted to tell you now. You are a great money manager and a hard worker. You never give up. I admire these things about you.
Do you remember when I was running errands and you wanted to ride with me. I said no. Lisa, I wish I had taken you with me. I wish I had spent more time with you and sisters. Work and providing for the family came first. I regret that.
You were always such a tomboy. There wasn't anything you wouldn't try. I marvel at your sense of adventure. It didn't matter how hard it was or how much your mom and I tried to discourage you, if you set your mind to it there was no stopping you. I admire your tenacity, perseverance and no fear approach to life. You don't let anything get you down for long.
The Focus
Remember, this is a letter about them, don't make it about you by bragging about what a great parent you were or defending and making excuses for the things you did. It's fine to briefly acknowledge and apologize for the things you feel you did wrong or that might have been hurtful or disappointing.
Just remember, this is a letter about why your love and admire the other person. Expressing honesty and even vulnerability can go a long way toward getting your message across. Photo: List of admirable traits.
Here's one more example,
Example 2
Dear Jack,
I want to write this letter to you because you are a very special person. I want to make sure you know just how special I think you are—and why. Jack, so many times, I think of you and remember things you said or did that make me smile, inside and out. You have a way of making people feel better about themselves and life.
Remember fishing on the dock at the family reunion? You baited the hooks and I took the fish off. You are so much older than me yet you chose to hang out with me instead of going with the other kids. Thanks for hanging out with me. You have a caring way of making everyone feel important. Photo: Fishing on the dock
Then there was the time you fell in the lake when we were canoeing. Did you tell anyone it was my fault? Nope! You didn't get mad even though I was laughing my butt off! You are fun and forgiving—I like that about you.
What's important?
Handwriting the letter is important. It tells the person that you love them enough to take time to hand write or print your message.
Making it meaningful and sincere is not just important, it's crucial.
It's important to be kind and loving. This is not the time to bring up embarrassing moments. Avoid backhanded compliments such as "I wish you had done that more often," or "I appreciated the few times you helped me." Comments like this are harmful and negate the purpose of the letter.
Telling them specifically why you love or like certain things about them is central to conveying the message. Anecdotes and examples that bring back fond memories are perfect. Just make sure that the focus is on the other person.
What's not important?
The paper it is written on. If you have nice paper handy, great! But don't let that stop you from writing.
The length, one page is fine. If you feel like writing more that's nice but a genuine meaningful letter is more important than a long one.
Beautiful handwriting is nice but few of us have it. Printing is perfectly acceptable. Try to slow down and make it legible.
The Outcome
As you pour your heart and soul into this beautiful gift, do it purely as a gift for the other person. Do it because you care about them. Please don't be discouraged or disheartened if their reaction is not what you expect, especially if you have had a strained relationship.
Earlier I mentioned that some people feel awkward expressing their emotions. The recipient of your letter may not know how to respond! They may be uncomfortable saying anything.
This is unfortunate. It would be nice if they thanked you and let you know how much your letter meant to them. However, do not let a disappointing response spoil your joy or you good feelings toward them.
Remember, the purpose of the letter is to thank them. The goal is NOT to get a pat on the back, remind them of what a good person you are or to store up crowns in heaven.
Write your letter to a special person telling them what you love about them and why.