Black Friday. Small business Saturday. Cyber Monday. Shop. Shop. Shop. Is it fun? Or is it exhausting? Add some fun to your holidays with these three reasons to give a surprise thank you!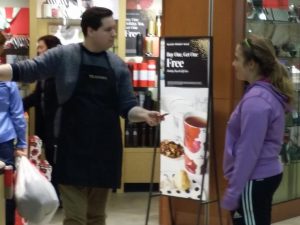 1.  Shop 'til you drop and experience the true meaning of Christmas. Grab your kids, grandkids, sibling, spouse, or parent and have some fun bringing cheer to a stranger. Go to the mall or shopping center and buy one, two, three or more $5 coffee shop gift cards. Enclose a little note thanking them for their patient and pleasant attitude. Now, head to the stores,  give one the fitting room clerk who rehangs/stocks all those clothes you try on or give it to a retail clerk who seems to need a lift!
2.  Surprise someone with holiday cheer! Stick a note in the door (not on the windshield-it's too hard to reach once you're in the car) similar to this: "Thanks for doing a great job of parking your car! You are awesome!"
3.  Baby, it's cold out there! Bake some cookies and deliver them to someone who works outdoors. It could be the carwash guys, your postal delivery person, valet parking attendants, the person tasked with gathering the carts at the grocery or discount store or anyone who works outdoors in the cold. Include a cup of hot chocolate or coffee for an added bonus.
Give a surprise Thank You and see what happens! We did. Saturday evening around 6 p.m. my teenage granddaughter and I decided to try out #1.
We met at the mall at Starbucks. My granddaughter immediately noticed the gift cards I had purchased, "Is one of these for me?"
"Not today, hon." I explained that today we were giving them to others and shared the plan. I chose JC Penny's; my granddaughter chose Teavana.
Ashley, a cashier at JC Penny received our first $5 Starbucks gift card with a mini thank you card saying why "YOU are one of my 21 Reasons to say thank you." I remembered Ashley from my Black Friday shopping. She was pleasant, friendly, and kept busy even when she had no customers. After she finished with the customer, we handed her the card . Her reaction, "What's this?"
"A gift for you," I replied as we headed for the door.
"Why? Why me?" she asked opening the envelope. You could see the surprise and delight on her face as she questioned, "Why? Who's it from? Why?"
"Me, because you deserve to be appreciated." She just stood there, awestruck for a few minutes.
As we left the store, she exclaimed with watery eyes, "Oh my, thank you. I think I'm going to cry. I can't cry, I'm at work. Oh my. Thank you. Thank you so much!"
Yes! This is fun.
Our next stop was the guy who passes out samples at Teavana. I convinced my granddaughter to give him the card while I peeked around one of the kiosk. His reaction was much more subdued. She handed him the card, "This is for you. It's a Starbucks card. Thanks for passing out samples. He smiled and said thanks. Vastly different from our last experience but nice.
Although the reactions were at opposite ends of the spectrum, in both cases, it felt good to surprise someone with a small gift.
We hope it left them feeling appreciated, encouraged and ready to pass on cheer and goodwill.
What random act of gratitude will you commit?