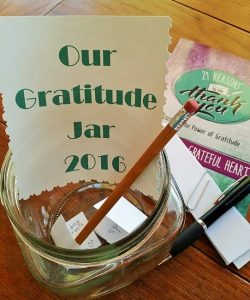 Start your own Gratitude Movement at home!
After a recent speaking engagement, one of the attendees, Stacy, shared with me that she and her husband started a Gratitude Jar. Every day they each write a grateful thought on a slip of paper, date it, and drop it in the jar. It could be an 'in the moment' thank you such as "no doggie accidents this morning" or "love snuggling on the couch & enjoying the Christmas tree lights." Write one word or a paragraph—it's up to you.
December is a good month to start a Gratitude Jar. If you have children or grandchildren, you could use this time to help to curb the entitlement monster. Start by sharing one brief comment about what you are thankful for, the person you are grateful to, and the sacrifice or effort given to provide you with the item or action. You could stimulate a conversation with a comment like this, "I'm grateful to grandma and grandpa for taking you to school, it's really nice of them to get out in the  cold–I'm sure they would rather stay inside. What do you think?" 
One word notes are good too. Hot chocolate. Building a snowman. Cookies. Snow days/no school. Latte at McD's. Gloves. Coats. Friends. One-on-one time with mom/dad. Appreciation for those in the family who clean up after the dog or scoop the litter. Gratitude for the school custodian, their coach, teacher(s), or Sunday School teacher. As parents, be thankful when the kids pick up their socks, remember to take their shoes off at the door, feed and water the pets, or do a chore.
Let the kids design and decorate the container. Keep a notepad or slips of paper handy along with an ink pen or pencil. To step it up, change the color of paper each month. You may want to add the date to the kids slips (resist the urge to read them! Save this for December 31st). Some days, share your notes as your write them (this is a good way to encourage and appreciate your kids). Ask the kids if they want to share, but I wouldn't make it a requirement (this might discourage the kids from participating).
Stacy and her husband plan to read their notes on New Year's Eve next year. What a fun and amazing way to recall the past and start the future!
Have a grateful week,
LaDonna
LaDonna Greiner is a writer, life-long student of gratitude, and the founder of the Gratitude Is Great movement. Her book series, 21 Reasons to Say Thank You, provides various audiences with the tools and practical guidance needed to help them express gratitude and appreciation to others through handwritten notes and other activities. Learn more at www.21ReasonsToSayThank You.com.