To realize the best results from your recognition and appreciation efforts, you need to change up your game frequently.
Are your employees no longer engaging in the established recognition or appreciation efforts? Do the same people receive recognition repeatedly?
It's time to come up with a new RAP –Recognition, Appreciation Plan!
5 Fun, Easy, Inexpensive Ideas!
1. Everybody Loves Chocolate
I love these "appreciation wrapper" bars that Hershey introduced in March 2017. You can only find them in select stores but what a neat surprise for someone who loves chocolate, Reese's, or KitKat's!  Step up your game by adding a personal note to the bar. A "You are one of my 21 Reasons to Say Thank You" card works great or add your own note. Whatever you do, be specific, e.g. "Thank you for your help on the annual report."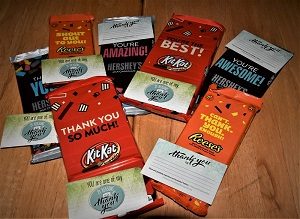 Note:  Monica, a Hershey Company rep, said they are typically located in the gift card, greeting card, or floral section. Her resources didn't actually say where you could find them but her suggestion is to try Walmart, CVS, Walgreen, Target, or Hallmark stores. I found them in a Walmart superstore at a high-traffic location but did not find them in one located in a small town. Don't bother going to Hersheystore.com or Hersheys.com unless you want to voice your thoughts.
2. Treat Your Staff To Healthy Snacks.
If your organization has a wellness program this is the perfect fit. Pick up the large Simply Best drinks (or several small ones) and a fruit tray/bowl; add the notes pictured and you have a yummy expression of your appreciation such as, "We're "grapeful" for your friendly helpful customer care!" Be sure to write their name at the top and sign it!
3. Appreciate Those Taken For Granted

Don't neglect accounting, proofreaders, and back-office staff. Let them know you appreciate their attention to the details —"DOTing the i's and crossing the t's –with a little humor. Take it up a notch and add a gift card to a book store, depart-ment store, coffee shop, or place you know they frequent.
4. Thank Your Support Staff
What would we do without janitors, maintenance, or other support personnel? These folks keep the lights on, the grounds looking nice and the toilet paper replenished. Remind them with Reese's Pieces that they are an "important piece of the team".
5. Appreciate & Recognize the Most Reliable Employees
Can you think of someone whom you can count on? They always come to work on time, are helpful, and reliable. Surprise them with a bowl of fruit to let them know how "berry" much you appreciate them.
These ideas may seem cheesy or silly, but they work!  It's nice to lighten up the workplace with a little humorous appreciation. Have fun recognizing the efforts of others with wit and creativity! For the tags featured here and more clever ideas on bringing appreciation into the workplace, send a request by clicking the "Coaching & Workshops" tab above and selecting "Contact Us".
LaDonna Greiner is a motivational coach and speaker who thrives on stories of gratitude and exploring ways to help others live the grateful life! She is a life-long student of gratitude and author of the book series, 21 Reasons to Say Thank You. LaDonna offers businesses and individuals the tools and practical guidance to discover the power of gratitude in their lives and act on it through expressions gratefulness and appreciation.