Are you facing 2018 feeling stretched too thin?  Are the demands at work and home weighing heavy?  Not enough hours in the day to accomplish all you need to do?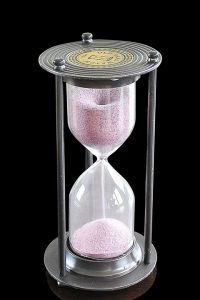 Maybe it is time you gave yourself a gift that you and others will appreciate. Continue the Christmas spirit and give yourself the gift of time. Time for you and your wellbeing. Stop burning the candle at both ends and replenish your soul.
It only takes five minutes.
When you begin to feel stressed or overwhelmed, give yourself permission to press pause. You may think you don't have time, not even five minutes. However, taking this much needed break actually saves time and adds value to the day. In five minutes, you can regroup and feel more refreshed–happier. Instead of things falling apart, they come together.
Here's the loving gift you can give yourself, a gift you can open as often as you need to. It is a calming and comforting process that will help you conquer the challenges in life with greater ease.
Change Up the New Year!
Find a place to spend five uninterrupted minutes. Your car. A tree you can lean against or a bench outside. A park or museum. Your office with the door closed. Steal away to an unused room. If all else fails, escape to the bathroom.
Silence your phone. Or better yet, leave it at your desk or in another room.
Call the stressful situation to mind. Name it. Stress. Fear. Anxiety. Frustration. Pain. Can you feel the tension or stress in your body increase? Does it make you uncomfortable? If so, that's okay. You want to be mindful and aware of what you are feeling. Say the words of your choice, such as "This is anxiety." "This is painful." If you cannot speak out loud, mouth the words silently.
Now, express your recognition that this is part of life. Acknowledge that everyone experiences discomfort. You could say something like, "Frustration is a part of life," or, "Everyone experiences stressful times." Remind yourself, "It's not just me."
Release yourself from the bonds of your situation. Place both hands over your heart. Do you feel the warmth of your hands gently covering and protecting your heart? (Photo of person leaning against tree with hands on heart)
Express your kindness toward yourself placing emphasis on the italicized words. You can say, "Starting now, I'm going to treat (your name) with kindness and love." Or choose another phrase that feels right, such as "Moving forward, I am going to show me, (your name) grace and compassion," or 'I am strong. (Your name) is strong," or, "I am grateful for the awareness of my personal needs and my willingness to take care of me and my needs," or, "Help me to cut myself some slack, and appreciate me the way I am." Repeat the phrase or phrases until you are feeling calm.
Do not allow any words of contempt or condescending thoughts to enter your mind. Shut the door immediately on feelings of guilt, condemnation or criticism. If you would not say it to another person, do not say them to yourself. Treat yourself with the love and grace you give to others.
Practice these six steps as often as needed.
Giving this gift to yourself is a calming, comforting, mindful process that will help you conquer the challenges in life and live a happier life.
Reduce Your Stress – Enjoy a Happier Life
May you gratefully give yourself this gift each time you feel yourself in a stressful situation. It will leave you feeling refreshed and restored. A gift of compassion and kindness—a gift you would gladly give someone else—is not the least bit selfish when given to yourself. Be kind to yourself.