"I need help teaching my kids to be more grateful. When are you going to write a thank you book for kids?" This is a question I hear often. 21 Reasons to Say Thank You for Kids will be available in 2016. To help us get it right, kids are contributing to the book. We're happy to say that 20% of profits will go to local nonprofits serving kids, such as Big Brothers Big Sisters, Boys & Girls Clubs, CASA, or others.
Since November is the month we focus on giving thanks, I wanted to give you a sneak peek at what you can look forward to in 21 Reasons to Say Thank You for Kids!  This is a fun memorable activity for parents, grandparents, or aunts and uncles. Enjoy!
Conversation: The best way to teach your children to be grateful is to model grateful behavior–a gratitude attitude. Talk with them about the gifts received and who provides these gifts. A gift can be something you experience such as spending time with someone special or a present that comes in pretty wrapping paper with a giant bow.
Spend some time casually talking with your kids about gratitude. Start by asking them, "What makes you feel glad or happy?" If they only list material things, suggest some experiences they enjoy or nature-related things like flowers, sunshine, beautiful trees.
Let's say your child responds with something along the lines of playing with a toy, reading, coloring, or playing outside. Continue the conversation by asking questions that help them realize why or how they are able to enjoy these things or experiences. You could talk about who gave them the toy, book, or crayons. Or highlight the friends they play with. Then say something like, "Are you glad we have a library with so many choices?" or "It was really nice of Grandpa to buy you that toy." Or "It's nice to have a friend to play with." Include an encouraging comment, such as, "I noticed that you let Emily play with your favorite stuffed animal. That was generous (nice, kind) of you."
Depending on the age and engagement, continue the conversation as long as your child shows interest but try to let them do most of the talking.
Now that you have them thinking about the things they are grateful for, you can start working with them on their Thanksgiving Turkey.
Project: Each person creates a turkey using their hand. Kids love it when adults join in the fun. Let them trace your hand and cut it out and you trace and cut out their hand Using your fingers as a pattern, create 10 – 20 additional "feathers" for your turkey. Each feather represents something they are thankful for.
Next, select several sheets of different colored construction paper for the additional feathers. Draw a series of finger shapes on a strip of construction paper and cut out at least 20 finger feathers in different colors. Use a small scrap of brown or red to add the beak and waddle. Draw an eye and wing if you feel creative.
Remind your child of your earlier conversation and ask them again to think of what makes them feel glad or happy. Let them write one item on one finger. Explain that this (the item they wrote on the finger) is something to be thankful for. You can talk about Thanksgiving Day and the story of how it came about. This would also be a good time to find a book about Thanksgiving at the library or book store to read together.
Each day, revisit the subject of gratitude. Let your child come up with another item or experience they are thankful for. Let the child write it on the "finger feather" and glue it on the turkey (place the glue on the same side as the writing and glue to the back side of turkeybody). If you miss a day or get a late start, no problem, just catch up by doing two or more "feathers."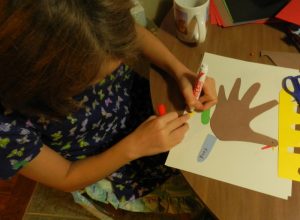 On Thanksgiving Day give the turkey a special place of honor. This reinforces the importance of thankfulness and gives your child the opportunity to share with others the things he/she appreciates in life.
Remember to write their name on the back and date it, or better yet, let them write their name and date it!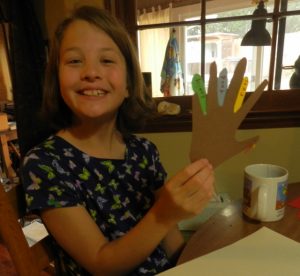 Materials Needed:
Construction paper or plain paper
Crayons, markers or colored pencils
Scissors
Glue
LaDonna Greiner is a writer, life-long student of gratitude, and the founder of the Gratitude Is Great movement. Her book series, 21 Reasons to Say Thank You, provides various audiences with the tools and practical guidance needed to help them express gratitude and appreciation to others through handwritten notes and other activities. Learn more at www.21ReasonsToSayThank You.com.